Outstanding corporate identity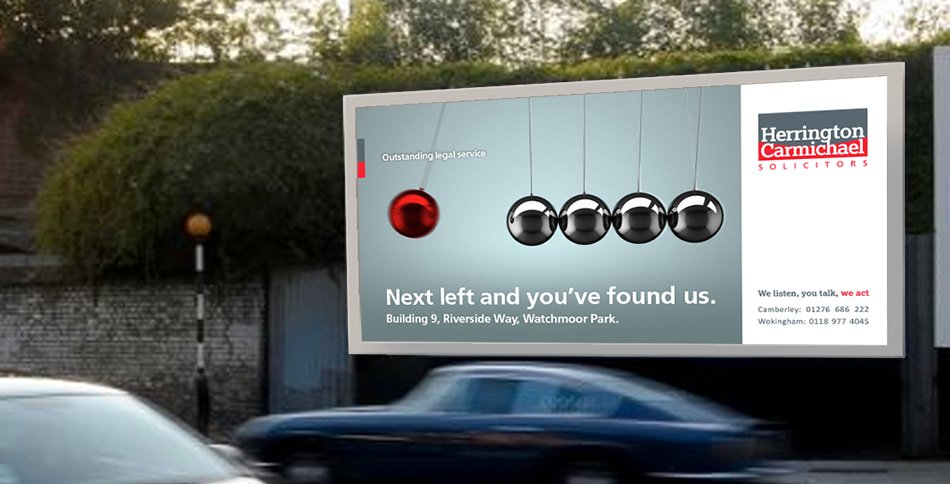 Rosser Reeves and Ted Bates came up with the concept of the Unique Selling Point or Proposition to meet the challenges presented by the proliferation of parity products and services in the 20th Century.
When there was no Unique Selling Point to be made, its equally important sibling, the Unique Selling Personality, came into play.
Which is what we set out to create last year for Herrington Carmichael, a long-established firm of solicitors in the Home Counties providing comprehensive legal services across a wide range of specialties.

They already had a logo, which they allowed us to tinker with, and a strap line, which we were not. So we took the core of what they had, which were the colours red and black and evolved a corporate identity which has allowed HC to present a fresh and dynamic new face to a market in which it is determined to grow.
Using black and white imagery to reflect the stark monotony of much legal process, each expression contains a selected feature shown in the corporate red. As the campaign builds, the underlying message will distinguish Herrington Carmichael as different and, by inference, better than the rest; it will also act as a performance marker internally.
We have developed a number of advertisements, posters and digital messages with this theme; the simplicity of the idea will allow us to produce an infinite number of variations, keeping the campaign constantly refreshed and assuring it longevity.