Try the window cleaner on your kitchen floor
When a client goes safe the upshot is often sorry. 
For years Colgate-Palmolive had produced an extensive range of Ajax household cleaners, all containing much the same ingredients but with different labels, for use on floors, windows, kitchens, cookers and bathrooms. Eventually they decided to rationalize the centre ground into one product – hooray! The think-tank brainstormed and came up with Ajax all-purpose cleaner.
I was briefed to write a press campaign; whole pages in all the main women's lifestyle magazines, standing out against fashion, cosmetics, holidays and home furnishings.
I was quite pleased with the first layout; research came back positive and suitably amused.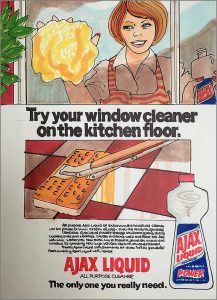 The client began fretting: "Like the idea, but could you soften it a bit?"
"I'll see if I can get someone to do it," I said.
History doesn't record the impact the 'soft' version made.
Probably just as well.